Endurance T25 Folding Treadmill
Endurance T25 Folding Treadmill
SKU:

T25
Endurance T25 Folding Treadmill
The Endurance by Body-Solid T25 Treadmill combines quality, convenience and state-of-the-art design to create one of the top home-focused treadmills on the market today. Built with a 2 HP continuous duty and 4 HP peak motor, the T25 Treadmill has a speed range of 1-10 mph while also featuring 0-12% elevation and incline settings for intense, calorie-burning workouts. Designed for users with space restrictions, the Endurance by Body-Solid T25 Treadmill quickly and easily folds while also offering transport wheels to allow expedient movement. 
The T25 Treadmill is constructed with large 2" diameter sealed-bearing rollers, a wide 20.5"x57" running space and a max user weight of 275 lbs. Crafted with top-of-the-line materials and precise, accurate welding, the T25 Treadmill will withstand heavy use in home, garage or basement gym settings.  An interactive LED display shows users time, distance, pulse, speed and incline and includes audio inputs, built-in speakers and a convenient cell phone holder. 
2 HP continuous duty & 4 HP peak motor
1-10 mph speed range
0-12% elevation
Wide 20.5" x 57" running space
Max User Weight: 275 lbs. 
Product Weight: 260 lbs.
Dimensions: 76" L x 36" W x 57" H
Programs
T25 offers sixteen exercise programs (QUICK-START, WEIGHT LOSS, MARATHON TRAINING, TIME COUNTDOWN, DISTANCE COUNTDOWN, CALORIES COUNTDOWN, WALK, JOG, HILL, RANDOM, CARDIO, RACE, SPRINT, (3) HEART-RATE CONTROLLED, )
 
QUICK-START: The user can make adjustment on speed and incline throughout the workout.
 
WEIGHT LOSS: Workout time is 40 minutes. Speed cannot be change and increases at differernt intervals. Incline can be changed using the INCLINE buttons.
 
MARATON TRAINING: Distance is set to 26.3 miles. Speed and Incline can be changed using SPEED and INCLINE buttons.
 
TIME COUNTDOWN: Set custom TIME. During workout, SPEED and INCLINE can be changed using INCLINE & SPEED buttons.
 
DISTANCE COUNTDOWN: Set custom DISTANCE. During workout, SPEED and INCLINE can be changed using INCLINE &
SPEED buttons.

P01-P08 are predetermined TIME/INTERVAL settings. Press INCLINE AND SPEED buttons to increase or decrease the TIME of each interval. The table below is the profile settings for each program (P01-P08)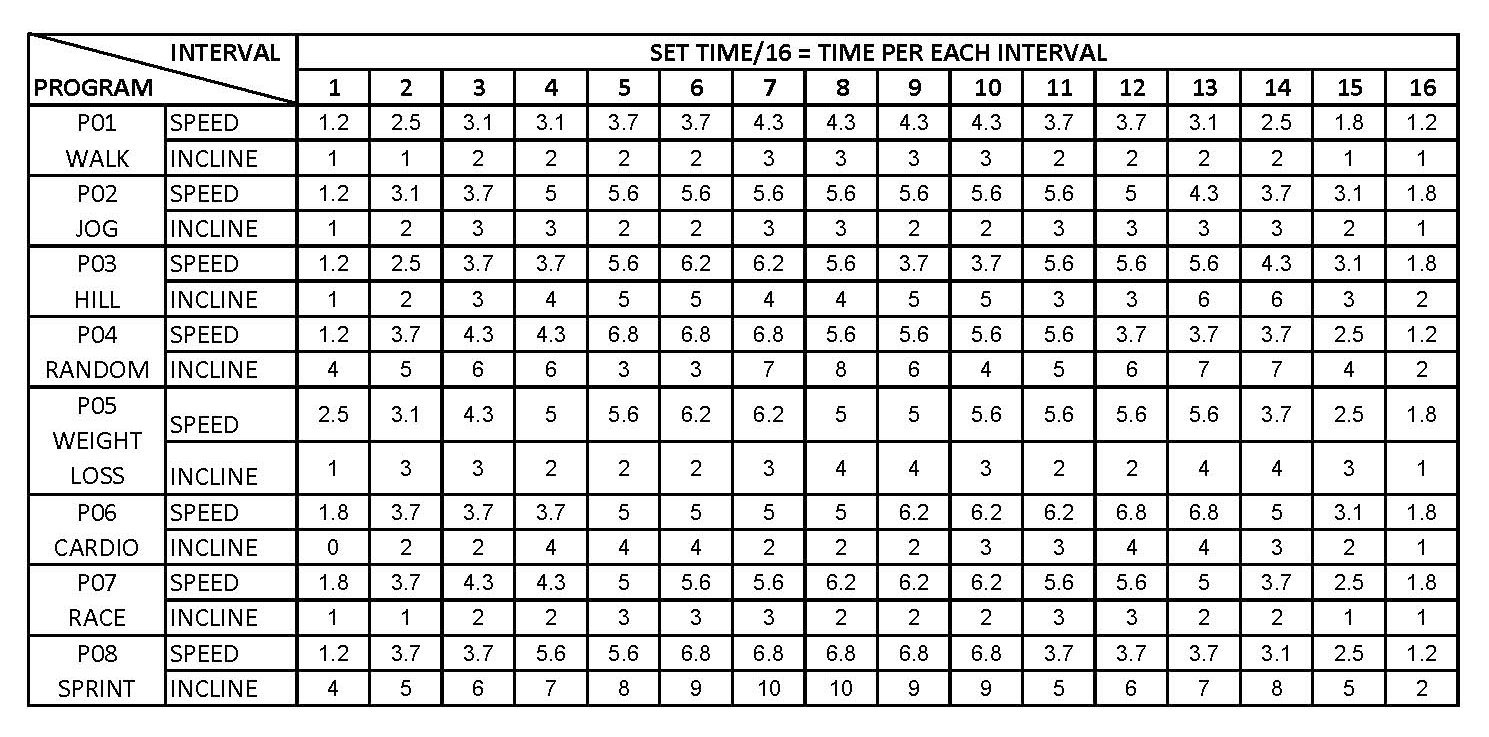 HP01 - HP03 are HEART RATE Speed Controlled settings based on age and Target Heart Rate. During workout, INCLINE & PEED can be change manually using INCLINE & SPEED buttons. But the Speed cannot exceed the maximum speed limit.
 
HP01: Max Speed: 5.0 MPH
HP02: Max Speed: 5.6 MPH
HP03: Max Speed: 6.2 MPH
Free Shipping
We like to keep it simple, If it's on our site...It Ships for Free!
All items are shipped via FedEx or Freight truck and do not include inside delivery or set-up.
Items shipped via FedEx will be brought to your door. We currently only ship to the 48 contiguous United States. Sorry but we do not ship to Alaska, Hawaii or Canada. 
In rare situations, some areas may be considered undeliverable. Those orders will simply be refunded.
Also, for larger items, your delivery address must be accessible by a semi-trailer truck. Please call 877-336-7483 if you would like us to arrange inside delivery and professional set-up of your equipment with a local service provider.
{formbuilder:NzY2ODg=}