Genesis Kinetic X5
Genesis Kinetic X5
SKU:

X5
Genesis Kinetic X5 ( w/ Standard Warranty)
This 3 motion, multi-purpose vibration machine has 120 speeds, 3 built-in program modes and comes with 2 sets of upper body straps. Cutting edge internal technology such as air-cooled electronics and double soldered motherboards.
600-watt and 300-watt DC electric motors provide plenty of power for the Kinetic X5. This is still plenty of power for home use. Black rubber mat has dimples, which provides a slip-free workout while wearing runners and yet the mat is soft enough to use wearing only socks or bare feet.
The X5 also accepts Vibra Pro certified trainer cards for the easiest and most efficient workouts possible. Easy to read oversized color display is included and the X5 has easy to operate controls for time, speed and motion settings.
Vibra Pro X5 Bonus Features
Air cooled electronics allows proper heat dissipation from the vibration exercise machine. Other whole body vibration machines do not have air-cooled electronics and can overheat easily. Electronics always operate more efficiently and last longer when they are cool.
Closed cell foam handlebars. The foam that is used on this whole body vibration machine is closed cell foam. This means that there are no open air pockets in the material. Unlike cheaper more commonly found handlebar foam, our Kinetic vibration machine handlebars will not absorb water or perspiration. This ensures that there will never be any mold or mildew growing on them. No need for chemical cleaners and disinfectants on any of our gym vibration machines.
Exercise Videos. The Kinetic X5 vibration machine includes detailed exercise DVD that shows a professional trainer walking the user through 8 different workouts designed for oscillation motion, spiral rotational motion, and soft triplanar motion. This DVD is specifically designed for a Vibra Pro Genesis multi-motion vibration machine.
Multiple types of upper body straps. The X5 vibration exercise machine has two sets of upper body straps to maximize versatility. Soft or often referred to as stretchy resistance straps are attached to the column of the vibration machine. The resistance straps are intended for performing arm exercises while standing on the vibration platform. The second set of upper body straps are rigid and are attached to the vibrating platform of the exercise machine. The rigid straps are used to transfer vibrations from the machine directly to the body.
Roller wheels on the back of the whole body vibration machines. High quality rubberized plastic wheels on the back side of the column facilitate moving the machine from one room to another by simply tilting and rolling the vibration machine.
Suction cup style feet. Non-marking suction cup style feet on the bottom of the vibration machine ensure stability and that the vibration platform machine will not damage or mark your floor. This style of feet will also allow you to place this vibration therapy machine on any type of flooring material with no worries. This vibrating workout machine can be safely used on carpet, laminate, hardwood, vinyl or concrete flooring.
Trainer cards – Our VP personal trainer cards are an optional accessory which you insert into the vibration machine to give you an automated workout. Based on the card you select, the vibration machine will calculate which motion style, speed and time duration is best for your specific needs. Once you press the start button, the exercise machine will operate automatically and make the best speed and motion changes over a set course of time, that personal trainers have determined are optimal for your needs. The trainer card bundle includes a very large corresponding poster that covers 6 different types of target benefits and 72 exercise positions.
Vibration Dampening Systems. Built-in and external vibration dampeners absorb and dissipate any non-harmonic vibrations which may be emanating from the vibration platform machine. The main dampener on the column is custom fabricated to meet the exact resonating frequency of the column material. This counteracts any non-harmonic vibrations which may reach the column from the base of the vibrating exercise machine. The mass of the vibration dampener is custom calibrated to each specific vibrating workout machine for an exact match.
Wall Poster. The Kinetic X5 vibration machine includes a large corresponding wall exercise poster that shows 25 easy to follow exercise positions with matching suggested vibration frequencies.
G-FORCE - 4.8G
INTERNAL PROGRAMS
- 
MOTION TYPE - Oscillation, Soft triplanar, Spiral rotational
MOTOR - 800 watts + 400 watts
TRAINER PROGRAMS - yes, compatible
USER WEIGHT RATING - 350 lbs. max
VIBRATION DAMPENER -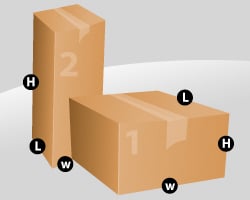 Box 1: 32″ x 28″ x 14″
Box 2: 57″ x 15″ x 13″
Free Shipping
We like to keep it simple, If it's on our site...It Ships for Free!
All items are shipped via FedEx or Freight truck and do not include inside delivery or set-up.
Items shipped via FedEx will be brought to your door. We currently only ship to the 48 contiguous United States. Sorry but we do not ship to Alaska, Hawaii or Canada. 
In rare situations, some areas may be considered undeliverable. Those orders will simply be refunded.
Also, for larger items, your delivery address must be accessible by a semi-trailer truck. Please call 877-336-7483 if you would like us to arrange inside delivery and professional set-up of your equipment with a local service provider.
{formbuilder:NzY2ODg=}